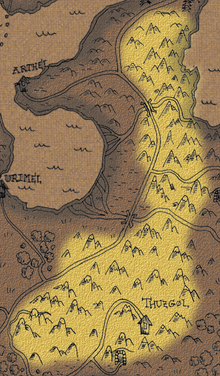 The Karantil ridge is situated in the middle west of Asnodil and traverses it from the central south until the high north. It is near-solely populated by dwarves.
The highest peaks in the southwest, which are also the highest elevations on Eilana, reach heights of more than 6200 meters above sea leavel. Further to the north, the mountains are progressively flatter; between the two streams, the major peaks are around 3000 m, lowering to about 1500-2000 m east of the gusty hills.
Heavily populated regions exist around and north of Thuzgol and in the northernmost borderland next to the dwarven hillsides. The northern dwarves live east of the gusty hills in a wide range of smaller settlements.
The climate is very dry in the south, without thermic seasons. Around the rivers, strong winds howl through the passes all year and winter snow is common at high altitudes. In the north, the winds are just as harsh and snow falls till the lowlands half of the year or longer.