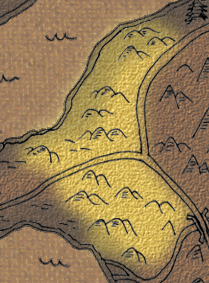 Like with many regions on Eilana, the name already says what to expect: Strong winds all year and a rather harsh climate. While the south of this region, which is situated between the Swamps of Arthel, the Karantil mountain ridge and the Land of the two streams, exhibits a temperate mountain climate with mild summers and frequent winter snowfall, life in the north is near unbearable with only two or three mostly snow free months and the perennial turbulent wind.
The population is part human, part dwarven, scraping their living in many small, scattered villages. As raising crops or even vegetables is difficult, food has to be imported from Arthel and the neighbouring northern dwarves, although fishing plays an important role too. Stockfish from the Gusty hills is considered a (very durable) delicacy.
Ad blocker interference detected!
Wikia is a free-to-use site that makes money from advertising. We have a modified experience for viewers using ad blockers

Wikia is not accessible if you've made further modifications. Remove the custom ad blocker rule(s) and the page will load as expected.