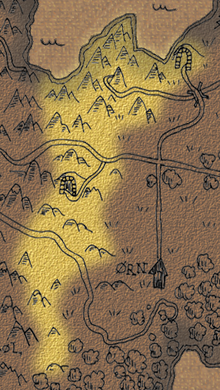 The dwarven hillsides are a hilly to mountainous region in central Asnodil, along the east of the Karantil mountain ridge. They are the homeland of the hill dwarves. The hillsides stretch from a hilly area north of the Woods of Allovium over the downs northwest of Orn, ending in a respectable mountain range with several peaks reaching 4000 m and more.
Nearly all inhabitants are dwarves of the warlike hill variety. Most clans settle in the northern and central area. Minor and disadvantaged clans have been forced to the south where they live as farmers, which is generally a profession looked down onto by reputable dwarves.
The south has a subtropical and dry climate which transitions into a temperate mountain climate in the central area. The north is cool most of the year due to the altitude, and quite windy.
Ad blocker interference detected!
Wikia is a free-to-use site that makes money from advertising. We have a modified experience for viewers using ad blockers

Wikia is not accessible if you've made further modifications. Remove the custom ad blocker rule(s) and the page will load as expected.